All of us can play in the sand, it comes natural to most people – even adults, but sand sculpting is a different story. If you have visited some of the "big" sand sculpture contests on the coast, you might wonder how to create beautiful sculptures like that. No matter how hard you try, or how much you sweat, your towers and walls just seem to crumble and get swept away by the sea, and sculptures made of sand, isn't that just for pros?
The Dirty Secret of Sand Sculpting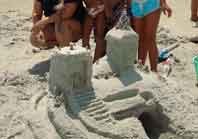 It doesn't matter if you never set foot in art class or ever would consider picking up a crayon and sketch – now you can participate in a hands-on, down and dirty, sand sculpting workshop teaching you all the tips and trick you need to become an expert at building sand castles.
The talented sand sculpting instructor will share his sand sculpting secrets and tool tips with his apprentice sand sculptors. As you know, the easiest way to learn a new skill is by doing, and the best thing is – these classes are free and open to everyone. This class is fun for the whole family.
The Bech Birthday Contest
You can simply see it as a great way to get your team ready for the City of St. Augustine Beach's 50th Birthday sand sculpting contest on November 7, or if you're not competitive, just a way for the family to have fun together on the beach.
The sand sculpting classes takes place the first Saturday of every month through October. Come to the beach in front of Ocean Trace on St. Augustine Beach.
The next Sand Sculpting Lessons will be on August 1st at 10:00 am at Ocean Trace ramp.
Visit the events calendar for Sand Sculpting Class at St Augustine Beach, Florida