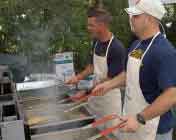 The annual Labor Day Catfish Festival in Kingsland, Georgia, held in historic downtown  usually attracts a huge crowd of over 65,000 people over three days.  This year the Labor Day festival takes place on August 31- September 2 , 2012.
This festival celebrates catfish, and you just have to taste the yummy catfish served at this event.  The catfish is prepared according to a secret recipe that has been used for years.  About 10,000 pounds of farm-raised catfish is prepared for the festival, so you know that this is a popular dish at the event. The catfish go on sale at 12:00 noon on Saturday and Sunday and 11:00 a.m. on Labor Day.  Other menu items include the famous deep-fried onion blossoms, oriental fare, barbecue, and homemade ice cream.
The festival opens, as many festivals do, on Saturday, with a 5K run so you can work up an appetite and really make room for those 10,000 pounds of catfish. Booths filled with art, antiques, crafts and collectibles will open at noon on Saturday and Sunday, and 9 a.m. on Labor Day. Don't miss the pancake breakfast on Monday, followed by the parade.
During the three days , people will flood the streets of downtown Kingsland, Georgia to browse over hundreds of arts and crafts and antiques, sample the foods of nearly 30 different food vendors, and most importantly, sit down to enjoy farm-raised Southern Fried Catfish, hushpuppies, grits, coleslaw, and sweetened iced tea.
Call 800-433-0225 for more information.
For more information, visit the website
If you like this article, please subscribe to our newsletter below.

We interviewed Tonya Rosado about the Catfish Festival one year. The video is included below.