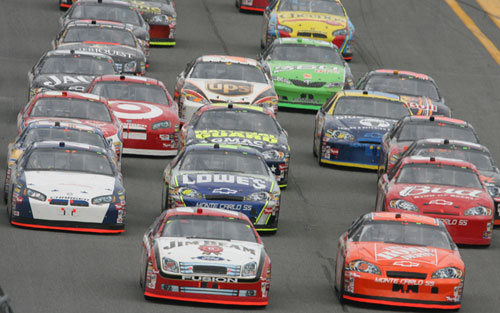 The city of Daytona Beach, Florida, is famous for having a beach where the hard packed sand allows motorized vehicles to drive on the beach. Cars are permitted in designated areas of the beach from sunrise to sunset, tidal conditions permitting.This hard packed sand made Daytona Beach a favorite spot for motorsports. The old Daytona Beach Road Course hosted races for over 50 years, but in 1959 it was replaced by the Daytona International Speedway. The city is also the headquarters for NASCAR and the Grand American Road Racing Association.
Daytona Beach is a great place to visit year-round for families. In many ways Daytona Beach is a seasonal town, since a large number of out-of-towners descending for various events throughout the year, most notably Speedweeks in early February when over 200,000 NASCAR fans come to attend the season-opening Daytona 500. Other events include the NASCAR Coke Zero 400 race in July, Bike Week in early March, Biketoberfest in late October, and the Rolex 24 Hours of Daytona endurance race in January.
Check out our list of annual events and festivals in Daytona below.


FESTIVALS AND EVENTS IN DAYTONA BEACH IN 2011
APRIL
Halifax Oyster Festival
April 30, 2011
MAY
JUNE
Coke Zero 400
June 30 – July 2, 2011
JULY
AUGUST
SEPTEMBER
American Music Festival
OCTOBER
Biketoberfest
Daytona Beach Blues Fest
NOVEMBER
DECEMBER