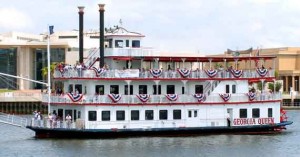 The city of Savannah is known for its beautiful gardens, live oak trees, many squares, elegant mansions and history. Savannah is Georgia's oldest city and one of the most popular travel destinations on the coast.
Make sure to wear comfortable walking shoes and take a stroll in the historic district and down to the river front. Savannah is also known for its cuisine with famous restaurants such as the Pink House, Paula Deen's "the Lady and the Son" and many more.  Here you will find excellent seafood and Lowcountry Boil.
Annual Events & Festivals in Savannah, GA – 2012
January
Polar Bear Plunge Tybee Island
This is one of the most popular events on Tybee Island every year. Loads of people show up to celebrate the New Year by taking the first swim in the ocean for the year. 
February
Georgia History Festival
This festival contains a wide variety of events centered around the long history of the state. 
Savannah Black Heritage Festival
Savannah celebrates black heritage and culture in a special festival during Black History Month.
Savannah Book Festival
The Book Festival keeps growing every year. Here you can rub elbows with famous authors, and talk about books, writing and reading with other book enthusiasts.
Savannah Irish Festival
Celebrate Celtic culture and everything Irish during this festival.
Mardi Gras on Tybee
Most of us think of New Orleans when someone mention Mardi Gras Festivals, but Tybee Island also has its own Mardi Gras Festival and parade.
Pulse Art + Technology
Experience art and technology at this innovative Savannah festival.
March
Savannah International Boat Show
Savannah is a port city, and it's also a hub for boaters on the coast. 
Savannah Music Festival
This festival keeps getting bigger every year. The music festival is well-known all over the world, and brings in international talent. Here you will find a wide variety of music styles.
April
SCAD International Festival
Experience culture and heritage from all over the world at this SCAD festival in downtown Savannah every spring.
Tybee Island Wine Festival
This is a popular fundraiser for the Tybee Post Theatre on Tybee Island.
Savannah Garden Exposition
If you are interested in gardening, and love flowers and plants, this is the spring event you don't want to miss.
Savannah Sidewalk Arts Festival
Every year students and alumni from SCAD gather in Forsyth Park to create amazing chalk drawings on the sidewalks of the park. 
May
Savannah Sand Arts Festival
You can visit the beach on Tybee Island to see the fantastic sand sculptures created by SCAD students, before the tide sweeps it all away.
Tybee Island Beach Bum Parade
This is not your regular boring parade. When you visit Tybee Island for the Beach Bum Parade you have to prepare to get soaked.
Armed Forces Festival
Come to the riverfront in downtown Savannah to celebrate our Armed Forces during a special event during Memorial Day weekend in Savannah, Georgia.
June
Savannah Asian Festival
Every year Savannah celebrates Asian culture and heritage in this popular festival with lots of food, vendors and live performances.
July
August
September
October
November
December
Other interesting stories to read about Savannah: