The Charleston area has several farmers markets, here are a few: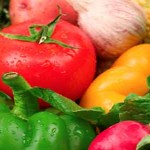 North Charleston Farmers Market
April 15,2010 – October 15,2010
Park Circle's Felix C. Davis Community Center
The Farmers Market is open every Thursday from mid-April to mid-October from 1:00 pm to 7:00 pm at Park Circle's Felix C. Davis Community Center. Every week the Farmers Market features fresh, locally grown produce, as well as herbs, jellies, jams and other delicacies.
Free parking. The Market is located within the Traffic Circle at Park Circle.
A variety of special events are featured including cooking demonstrations, nutrition classes and free health screenings. The Farmers Market also has a playground to help keep your children such as  special events, face painting, pony rides and a jump castle and more. There's also a selection of booths full of valuable community information.  The Market has picnic tables under beautiful shade trees where you can sit and enjoy your meal or watch the Market's atmosphere.
For more information, call (843) 745-1028
Coosaw Pointe Farmers Market
This market is open on Wednesdays during the season, from 2:00 pm to 6:00 pm. Click here for directions
Mount Pleasant Farmers Market
April 13,2010 – October 10, 2010
The Mount Pleasant Farmers market is open on Tuesdays from 4 pm until dark. The season lasts from April 13 to October 19.  The market is the perfect place to buy fresh, locally grown produce.  This market is becoming a gathering place for locals and visitors alike.  At the heart of the market are two large pavilions housing farmers and food vendors, an open-air plaza, plenty of green space, magnificent live oaks, and seating areas.
New farmers and vendors this year include The Boot, Chef Ann's Gourmet to You, Fili-West Farms, Freeman Farm Produce Market, Hickory Bluff Nursery & Berry Farm, Marble Slab Creamery, Molly & Me Pecans, Mosaic Café & Catering, Nellie's Farm, Organic Process, Stella Maris Seafood, Wadmalaw Gardens, Zeus Grill & Seafood. Some new items include poultry, goat cheese, pecans and ice cream.
Returning farmers include J. Mac Produce, Boone Hall Farms, Fields Farm, Freeman Farms, Joseph Fields Farm, Kennerty Farms, Maple Ridge Farm, Molly and Me Pecans, Nellie's Farm, Owl's Nest Plantation, River Run Farms, Shuler Peach Co., Simmons Farm, Thackeray Farms, and Tiverton Farms.
Returning food vendors are Charleston Bay Gourmet, Charleston Crepe Company, Charleston Festival Foods, Charleston Spice Company, Fresh Pickle Works, Great Foods Co-op, Mike's Hot Boiled Peanuts, Mount Pleasant Seafood, Nicole's Nutty Goodness, Rina's Kitchen, Rio Bertolini's Fresh Pasta, Rococo Bakery, Southern Comfort BBQ Sauce, Southern Sisters, T&T Kettle Korn, Tazza Beverages, and The Good Dog Bakery.
Entertainment includes music by Southern Flavor Bluegrass Band, Mitchell Wetherington, Bluestone Ramblers, Mark Schuler, Danielle Howle, Kim & Tom, Miriam Allen, and Travis Allison. Children's activities include face painting and balloons and appearances from Creative Spark, the Children's Museum and Mad Hattery.
Admission is free and plenty of free parking is available at Moultrie Middle School, at Moultrie Plaza, and along Simmons Street.  For more information visit www.townofmountpleasant.com or call Ashley McKenzie at (843) 884-8517.
View Larger Map
Charleston Farmer Market
This market takes place at Marion Square in downtown Charleston on Saturdays. Visit our special page for more info about Charleston Farmers Market.