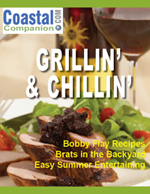 Sign up for Coastal Companion's VIP Club today.

Almost immediately you will start receiving our weekly newsletter and you will also get the latest news and updates about upcoming festivals and events sent directly to your inbox.
This is what you can expect to receive:
Information about festivals, events and other happenings for holidays and big weekends such as Memorial Day, Fourth of July and Labor Day.
Quick emails letting you know that we have uploaded a new video from the coast
You will be the first to know when we have a new interview with an event organizer available for you
We always send you information first about any contest or giveaways we are involved in
Ideas about fun things to do on the coast this weekend
and much more…
Don't worry, I hate spam just as much as you do and won't sell your email address to anybody.
Right now – you'll get sent a link to download
our 25 page ebook for Grillin' & Chillin'
filled with great Summer recipes when you
sign up as a subscriber.

Name
To make sure we're only sending our information to those who ask for it, you'll have to confirm your subscription. This is just a safety precaution.
It works like this: 1. Fill in the form below with your name and email address. You'll be taken to a page that looks like this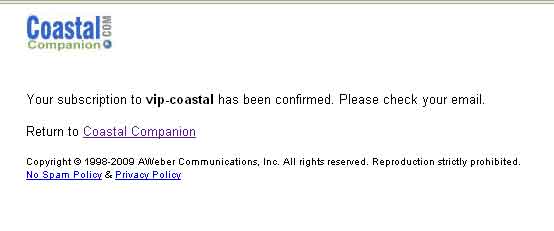 2. Check your inbox, you'll receive an email from Coastal Companion looking like this. (Your inbox might look different from mine). The email will say: Please verify your sign up to Coastal Companion's VIP Club

3. Open the email and click the link in that email – I have circled the link in red, or cut and paste the link into a new browser window.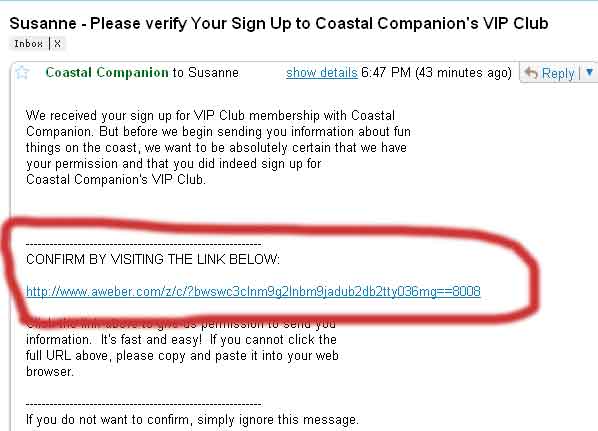 4. Congratulations! You are now a Coastal Companion and you're subscribing to our newsletter. We hope you enjoy it. To get started, just fill out your name and email here!