Labor Day Weekend in Coastal Georgia
Many of us like to take spend extra time with friends and family for Labor Day Weekend. Here on the coast, it's usually a great time to celebrate the end of summer and spend some time on the beach. We're just hoping that the weather will cooperate; we've had a lot of rain here on the coast lately.
There is a lot happening on the coast for Labor Day weekend, from antiques, to beer, and even southern fried catfish.
Here is our list:
First Friday Fireworks on the River – Savannah
September 4th, 9:30pm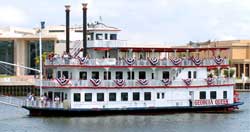 River street is where it all happens. Come down to River Street to kick off the weekend with First Friday Fireworks and fun! There's always a lot going on, from vendors, to music and performances. This is a great place to hang out for the evening. You can always find a nice place to sit and have a bite to eat or a drink and just enjoy the ambiance.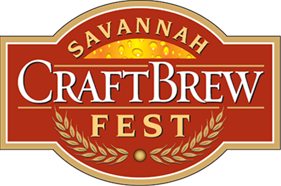 Savannah Craft Brew Fest
September 4-5, 2009
Held on Labor Day Weekend, the Savannah Craft Brew Fest features the best of American craft brews. The two-day event begins with a gourmet food and brew pairings dinner on Friday evening and a beer tasting event on Saturday featuring about 35 breweries with more than 100 of their tastiest craft brews to sample. For more information or to purchase tickets visit Savannah Craft Brew Fest website.
River Street Labor Day Celebration – Savannah
September 5th, 9am-9pm & September 6th, 9am-7pm
Head downtown for the Labor Day River Street Style in downtown with Arts and Crafts, Entertainment and fun for the entire family.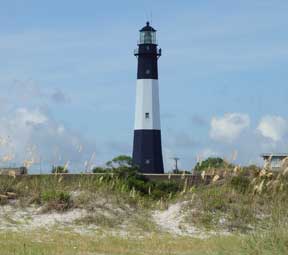 Tybee Island Labor Day Beach Bash
Sunday, September 6, 2009
This events features a concert with our favorite band the Swingin' Medallions, this band has been called "the party band of the South", and rightfully so. They are a lot of fun and always put on a great show. Come to Tybee Island to end the summer with a blast. Enjoy the ocean breezes, the beach, live music and fireworks on Sunday, September 6th from 7:00 p.m. to 10 p.m. The Swingin' Medallions go on at 7:30pm and the fireworks begin at approximately 9:15pm or at dark. This event is free.
Kingsland Catfish Festival
Saturday, September 5 – Monday, September 7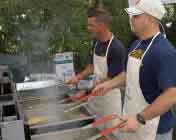 In Camden County, this is the big one, and no wonder. Annual Labor Day Weekend Catfish Festival which runs from Saturday through Monday and it's the largest festival in Southeast Georgia. This 3-day event includes a parade, free concerts, arts & crafts booths, southern fried and Cajun catfish, a variety of food booths, antiques and collectibles, entertainment, children's amusement area, a 5K run, a classic car & tractor exhibition, and the annual Lion Club's Pancake Breakfast.
Click here to read our feature article about the 2009 Catfish Festival in Kingsland, Camden County, GA

For more information call 912-729-5999 or www.VisitKingsland.com
First Friday in Downtown Brunswick
Friday, September 4, 2009
Come to downtown Brunswick for the First Friday event. Mingle and visit the shops, galleries, restaurants of Historic Downtown Brunswick; "He Said Beer, She Said Wine" tasting at select shops; live music various locations. First Friday takes place on September 4th from 5 – 8 p.m., Newcastle and Gloucester Streets – Brunswick
For more information about the event, please call (912) 265-4032
St.Simons Island Antique Show
Saturday September 5, 2009 – Sunday, September 6, 2009
Take a trip to the Village on St Simons Island for Labor Day Weekend. Vendors from near and far are setting up their booths in Postell Park for the Antique Show. Here you can find all kinds of treasures from antiques, to collectibles and craft items.
St Simons Island Antique Show takes place Saturday September 5th and Sunday September 6th from 9 am – 5 pm. For more information call (912) 264-3254 or visit www.stsimonsantiqueshow.com
A Little Light Music at St Simons Lighthouse
Sunday, September 6, 2009
On Sunday you can plan to spend a relaxing evening at the lighthouse listening to The Sensational Sounds of Motown. Bring a picnic and lawn chair and your friends and family to the Lighthouse lawn at 7 pm. Admission is $10 per person. For more information call (912) 638-4666 or visit www.saintsimonslighthouse.org