Hay Days comes to St. Marys and kicks off with "Build-A-Scarecrow".  The annual Hay Days will takes place October 10 – 31, 2009,  with numerous events in downtown St Marys.
The main street in St. Marys, Osborn Street, will be decorated for the season with scarecrows from businesses, individuals and organizations. Every year locals have a great time coming up with the most innovative and creative scarecrows.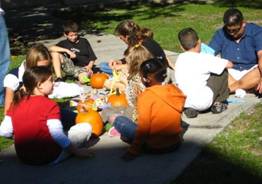 Kids of all ages are invited to Build-A-Scarecrow at Orange Hall on Saturday, October 10th at 10:00 AM. Purchase your own kit with everything you need to make the perfect Scarecrow available for only $20. Your Scarecrow might be selected to be placed downtown or take it home instead. Osborne Street the Scarecrows will welcome locals and visitors to downtown St. Marys throughout the Hay Days celebration.
Get Your Kit Now
To reserve your Build-A-Scarecrow kit, call the St. Marys Downtown Development Authority, (912) 882-8111 or email info@stmarysdda.com. Only fifty kits are available so hurry and make your reservations today to join in the fun. Any Scarecrow kits remaining will be assigned on a first come basis the day of the event at a cost of $25.