Join the fun and come to an Easter Eggstravaganza at Middleton Place. This year the organizers are going green and have created an eco-friendly Easter egg hunt on Saturday, April 3 Paper mache eggs have been chosen instead of plastic, and real hard-boiled eggs are standing by for decorating. There are also clay eggs made by the Stableyard's potter and "prize" eggs filled with gift certificates redeemable at the Garden Market or Museum Shop. The fun begins at 11:00 am.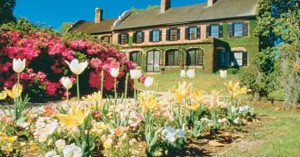 In the Plantation Stableyards, kids can learn how to color eggs by using vegetables, plants, flowers and other natural items. There is also a special an Easter Bunny meet and greet, story time station, and arts and crafts area. During the day games such as egg rolls on the parterre, egg tosses and more are available. Spring is also the time of year when kids and adults can enjoy seeing new baby lambs, chicks and bunnies.
Reservations are requested. Please call (843) 556-6020. Regular gate admission, $25 adults and $5 for children ages 7-15. Children 6 and under admitted free with paid adult.