Mardi Gras traditionally takes place before the fasting season of Lent, its origins go all the way back to the ancient Rome. Many cities continue the tradition today, for example Mobile, Alabama and New Orleans, Louisiana, and maybe the most famous celebration of them all takes place in Rio de Janeiro.
But did you know that here on the coast of Georgia, we actually have two festivals of our own.  St. Marys Mardi Gras Festival has a long tradition, in 2012 it will be;the 18th year for the family friendly Mardi Gras festival.  Tybee Island is slightly behind in years anyway – but the Tybee Island Mardi Gras Festival makes up for that with lots of activities, events and participants. 
Mardi Gras St Marys
The Annual Mardi Gras Festival and Parade will showcase festive floats and costumes. This is one of the most popular annual festivals in St Marys. Everyone comes downtown to view the Mardi Gras parade and catch beads.

A 10 a.m. parade will kick off the festival and the parade is followed by an action-packed day of entertainment, arts and crafts, and amusements. This year there is also a Chili Cook Off and a Pet Costume Contest. The, when the sun goes down , adults can continue to the Mardi Gras Ball.  A new King and Queen are chosen and prizes are awarded for best costumes. 
Tickets for the ball are available at the St. Marys Welcome Center and Once Upon a Bookseller in Downtown St. Marys. Beads are also available at the bookstore on days leading up to the festival. For more information, call 912-882-7350 or 912-552-0072.
The Mardi Gras Festival includes a parade and live entertainment on Saturday, February 18, 2012.
For more information, please call St Marys Convention and Visitors Bureau at 912.882.4000 or visit www.stmaryswelcome.com
Mardi Gras Tybee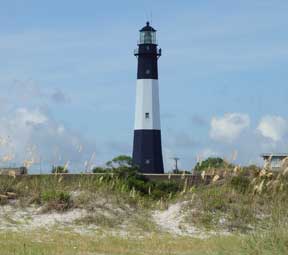 Tybee Island is celebrating Mardi Gras for the second time this year.
Purple, gold and green flags will dress up Tybee Island for the party. Mardi Gras Tybee kicks off with a  Masquerade Ball on Friday, February 12th at 8pm, hosted by Fannies on the Beach. Tickets are $20 in advance, or $25 at the door.
On Saturday February 13th, there will be a Mardi Gras parade at 3pm down Butler Avenue and a street party with music and festivities on Tybrisa Street. Join the fun, listen to authentic Zydeco music featuring Brad Randell and the Zydeco Ballers, All American All Star Dixieland Review and Jeff Beasley Band. The music starts already at noon. Admission to the street party and parade viewing is free.
Read more on our page for Tybee Island Mardi Gras Festival
Tickets for the Fantasy Masquerade Ball can be purchased online at www.mardigrastybee.com