Sometimes when the weather is really hot and humid, it does seem like a wonderful idea to go inside and cool off. The Ritz in downtown Brunswick is one of those old movie theatres that have been restored and brought back to life. Here you can experience movie watching the way it used to be in the good old days. In the Summer, the Ritz brings back some of the most beloved classic movies to the silverscreen with the Summer Movie Classic Series.
Poodle Skirts, Brylcreem and Sing-Alongs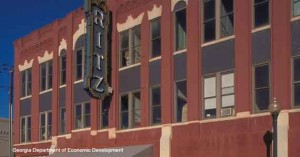 First on the agenda is the clasic movie musical Grease from 1978. Come early, and feel free to break out the poodle skirts and Brylcreem for a fun night downtown when the movie series kicks off for its sixth season on Thursday, July 12, 2012. Cartoons and other shorts begin at 6:30 p.m., followed by a costume contest for all ages. The feature begins at 7:00 with the lyrics to all the songs projected right on the screen.
"This is the third year we've started the Summer Classics with a sing-along show, and our
audiences always love it," says Rob Nixon, who coordinates film programming at the Ritz for
Golden Isles Arts and Humanities. "Kids and adults come in costume and really become part of
the musical cast. We think this year is going to be the best sing-along yet since Grease is one of
our most requested movies ever."
Prizes for the Grease costume contest, which will be awarded in age levels, have been donated
by Glynn Crisis Center (a "Taste of Glynn" cookbook), artist Ian Kaszans, and Color Me Happy.
In addition, door prizes will be given out at the remaining four movies in the series, provided by
such local merchants as Clover Skin Studio, Fox's Pizza Den Downtown, Glynn Chiropractic,
Hattie's Books, Stitch in Time monogram shop, and Ned Cash Jewelers.
Dinner and a Movie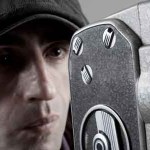 Following the Grease Sing-Along on July 12, Golden Isles Arts and Humanities will screen the
terrifying blockbuster Jaws on Thursday, July 19, at 7:00 p.m.; the Spencer Tracy-Katharine
Hepburn comedy Adam's Rib on Thursday, July 26, at 7:00; the perfect election-year movie, Mr.
Smith Goes to Washington on Thursday, August 2, at 7:00; and a matinee of the much-requested
classic The Music Man on Sunday, August 5, at 3:00 p.m.
Every Thursday evening of the series, the public is invited to make a night of it downtown with
food and drink specials in the neighborhood:
Fox's Pizza Den at 1429 Newcastle St., one block from the Ritz, is offering a great "Dinner and a Movie" special with its new expanded menu. Buy your ticket at the Ritz box office beginning at 5:00 p.m. on show night and take it to Fox's for 10% offyour bill and priority dining to get you back in time for the movie. On the way back to the theater, stop in at Achin' 4 Bakin' across the street from the Ritz and pick up special theme cupcakes for movie snacks. As usual, Angie Aimar and James Laurens ofColdwell Banker Platinum Partners will be serving up piping hot popcorn in the theater lobby (first come, first served).Ticket holders can also show their tickets at Tipsy McSway's, 1414 Newcastle, for a free draft beer after the show.
"We're excited to partner with these great local businesses to make Downtown Brunswick the
place to be for a complete, entertaining night out," Nixon says. "We're very lucky to have a
historic neighborhood that's still so vibrant and full of fun places the whole community can
enjoy. And with the terrific line-up we have for this year's Summer Classics, we look forward
to bringing a lot of people Downtown, not only on Thursday evenings but for the special Music
Man matinee."
Admission to each show in the Summer Classic Movies series is still only $5 for all ages. The
box office opens at 5:00 p.m. on Thursdays and 2:00 p.m. on Sunday, August 5. Cartoons,
previews, and short subjects begin about 30 minutes before show time. For more information,
please visit goldenislesarts.org or call 912-262-6934.

SUMMER CLASSIC MOVIES AT THE RITZ SERIES FOR 2012
Thursday, July 12, 7:00 p.m. – Grease Sing-Along (1978)
It's the one that you want! The most successful movie musical of all time and one of the most
requested by Ritz film patrons will put a spring in your step and bring a song to your lips. John
Travolta, Olivia Newton-John, and Stockard Channing bring back the 1950s—and so can our
audiences with lyrics printed right on the big screen for you to sing along. Come in costume and
compete for prizes!
Thursday, July 19, 7:00 p.m. – Jaws (1975)
We're gonna need a bigger boat! The terrifying blockbuster that redefined summer movies and
put a chill into the ocean comes to the big screen just in time for beach season. Richard Dreyfus,
Roy Scheider, and a shark named Bruce star in this Oscar winner for editing, sound, and that
unforgettably frightening music score.
Thursday, July 26, 7:00 p.m. – Adam's Rib (1949)
Spencer Tracy and Katharine Hepburn were one of the most popular screen teams of all time,
and in this, the sixth of their nine films together, they're at the top of their form as a married
pair of lawyers squaring off on opposite sides in the trial of a woman accused of shooting her
husband. The delightfully witty Oscar-nominated screenplay gives them plenty of chances to
spar in this hilarious battle-of-the-sexes comedy classic.
Thursday, August 2, 7:00 p.m. – Mr. Smith Goes to Washington (1939)
No matter what side of the political spectrum you're on, you'll love this Oscar winner (Best
Writing) all about an idealistic young man who finds himself in Congress and up to his ears in
political corruption. James Stewart gives a powerful and likable performance as a naïve but
passionate Everyman who takes on the system and wins the heart of cynical reporter Jean Arthur.
Sunday, August 5, 3:00 p.m. – The Music Man (1962)
We got trouble right here in River City! The Tony Award-winning play that became a hit movie
musical is here at the Ritz to entertain and enchant you with such memorable songs as "Good
Night, My Someone," "Til There Was You," and, of course, "76 Trombones." Robert Preston
is all smooth-talking charm as the traveling con man who reforms under the spell of librarian
Shirley Jones and small-town life in early 20th century America.