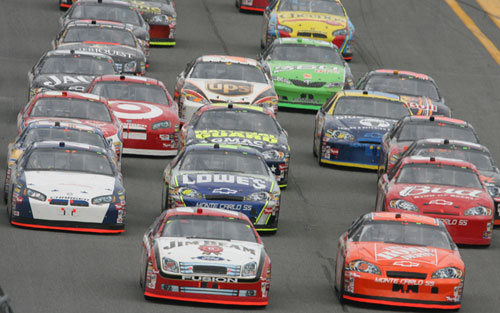 Racing fans won't want to miss one of the summer's most anticipated auto events. The Coke Zero 400 at Daytona International Speedway is one of only a few NASCAR races run at night. The Coke Zero 400 Weekend is scheduled for July 5 – July 7,2012, in Daytona Beach, Florida.
This exciting weekend of racing kicks off with the Subway Jalapeno 250 on Friday July 1, 2011.
Subway Jalapeno 250 – July 6, 2012
The NASCAR Nationwide Series car in a 100-lap, 250-mile race.
Coke Zero 400 – July 7, 2012
Watch the exciting race under the lights in the 160-lap, 400-mile race. Then race fans can enjoy one of the largest fireworks shows around.
For more information visit www.daytonainternationalspeedway.com.
Watch our video from the Tour at Daytona International Speedway