Eat Up Downtown is Jacksonville's own version of Restaurant Week – or Downtown Dining Week – and it's without doubt one of the best deals in town. All of us love to eat out – and very much so when it costs less. Most of us have had to cut our budget pretty drastically lately, so mark your calendar so you don't miss this year's Eat Up Downtown in Jacksonville.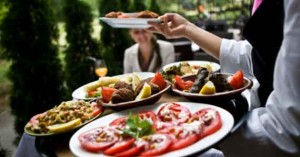 There is one big change this year to the popular event. It's been extended to two whole weeks in 2012. From August 13 – August 26, 2012,  you'll get a chance to experience exquisite cuisine at participating restaurants. New this year is tiered pricing, with participating restaurants offering three-course meals at one of three price points: $15, $25 or $35. It's a great deal. 
There's a wide variety of restaurants to choose from on the list, from cafés to elegant steak houses, all in the downtown area.
Now you can afford to take Mom out for dinner, your family, your friends – and your sweetheart. Try a new restaurant, or visit an old favorite, the choice is yours.
Whatever you choose, make sure to Eat Up! (Sorry, couldn't resist!)
More information www.eatupdowntown.com
Please call restaurants directly for reservations. For more information on Jacksonville's Downtown Dining Week, please call 904-451-3344, Monday through Friday, 9 a.m. — 5 p.m.