Fourth of July in Jacksonville, Florida
Wednesday July 4, 2012
There is no better way to celebrate Independence Day than with spectacular fireworks, and Jacksonville offers one of the best shows around. The fireworks are launched from barges  located between the Acosta Bridge and the Main Street bridge. The fireworks will be choreographed to a special patriotic soundtrack which you can hear on both the Northbank and the Southbank.

Fireworks on the Downtown Riverfront


The fireworks is scheduled to begin around 9:30 p.m. Fireworks can be viewed from the Northbank and Southbank of the St. Johns River.  Fireworks in downtown Jacksonville will be launched from river barges behind Metropolitan Park, the Hyatt Regency Jacksonville Riverfront and The Jacksonville Landing along with strobes on the Main Street Bridge and the Acosta Bridge.
Jacksonville Landing
The Jacksonville Landing offers live music from the stage during the All-American 4th at The Landing.
Live music and entertainment in the Courtyard all day.


The Jacksonville Landing: (904) 353-1188 or www.jacksonvillelanding.com
Information about parking etc for the downtown area is available at the bottom of this page.
Parking Downtown Jacksonville
Sport Complex (Northbank), $5
Water Street Garage (Northbank), $10, Open at 5 p.m.
Courthouse West Lot, $10, Open at 5 p.m.
Yates Garage, $10, Open at 5 p.m.
Kings Avenue Parking Garage (Southbank), $5,
Park at the Kings Avenue Parking Garage on the Southbank and take a Water Taxi to the Jacksonville Municipal Marina near Metropolitan Park. For ice skating, the Veterans Memorial Arena is just a short walk from Metropolitan Park.
For complete information and a downtown parking map, visit www.downtownjacksonville.org
Downtown Trolley
Hours of Operation on July 4, 8:30 a.m. – 11:30 p.m.
Service will be limited during the fireworks show due to the Acosta Bridge closure. Service will continue after the show ends.
Fares $1 per person. Children ages 12 and under are free
Trolley Stops
* Metropolitan Park (Main entrance)
* Veterans Memorial Arena (Adams St. and A. Philip Randolph Blvd.)
* Liberty St. and Bay St. (near downtown bars)
* Hyatt Regency Hotel (Newnan St. and Bay St.)
* The Jacksonville Landing (Water St. and Hogan St.)
* Museum of Science and History-MOSH (Museum Circle)
* Crown Plaza Jacksonville Riverfront (Riverplace Blvd.)
* Riverside Arts Market (Riverside Ave. near the Fuller Warren Bridge)

Apple Pie Celebration Fourth of July – Orange Park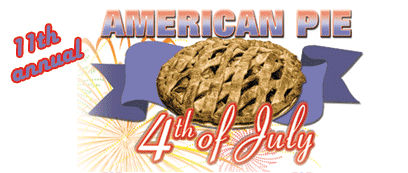 The Apple Pie Celebation of Fourth of July in Orange Park is back this year on July 4, 2012. The festival opensat 11:00 AM with lots of fun for the whole family.  At2:00 PM there is as usual a special Independence Day parade starting from the Kennel Club and then continuing down to Moosehaven along River Road.
There is lots of fun for the kids with free rides and games all day. There is also as the name implies a pie baking contest and a popular pie throwing contest. Now you are not just throwing pies, you actually get to aim at local elected official , education and corporate leaders. This is probably one of the most popular happenings for the locals anyway.
In addition, you will find arts and crafts and live entertainment. Molly Hatchet is performing.  New for this year – a beer garden. Of course, no Fourth of July celebration would be complete without fireworks, and this festival ends with fireworks at approximately 9:30 PM.
For more information about the event, click here.

Freedom Festival – Orange Park Mall
On Saturday June 30, 2012, Orange Park Mall hosts a Freedom Festival in celebration of 4th of July. This is an outdoor event with many fun activities for both kids and adults. The festival features a Kid's Zone, Military Displays, live entertainment and a huge fireworks show at 9 pm. Molly Hatchet concert as well.

4th of July Concert – Cummer Gardens
At the Cummer Gardens you can enjoy a beautiful evening outside next to the St Johns River where you can enjoy a special Fourth of July evening with jazz, swing and patriotic music. Then you will have the best seats in the house to watch fantastic fireworks on the river.
Guests are encouraged to bring their own blankets, chairs, food and beverages.  Food and drink will also be available for purchase from the TreeCup Café.
Advance-purchase tickets $10 for Members and Non-members are available.
Call 904.356.6857 for more information.