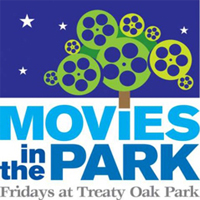 Bring family and friends to a free movie in the park. Movies in the Park takes place at Treaty Oak Park held every spring in Jacksonville. It is a free, four-week-long movie series taking place at the historic Treaty Oak Park on Downtown's Southbank. Now everyone can enjoy this special treat with family-friendly movies under the stars.
Beach blankets and camp chairs set the scene at Treaty Oak Park on the Southbank. Movie goers are encouraged to bring your own picnic baskets, vendors will also be available on-site.
THE MOVIES FOR 2011 INCLUDE:
April 8 – Cars (rated G)
April 15 – The Neverending Story (rated PG)
April 29 – Willy Wonka & the Chocolate Factory (rated G)
May 6, 2011 – The Wizard of Oz (rated G)
Please note that there is no movie on April 22! (It's Good Friday!)
PARKING
Free convenient parking is available in the Suddath garage on Flagler Street across from the Hampton Inn. Garage gates stay open until 12:00 a.m.