The only place where you will find a Datil Pepper Festival is St. Augustine, Florida, and every year there is a special festival to celebrate the hot pepper.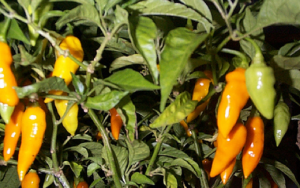 Datils are similar in strength to habaneros but have a sweeter, fruitier flavor. The spiciness may be anywhere from 100,000 to 300,000 scoville units – and that means it's a HOT pepper!
Datil peppers are cultivated throughout the United States and elsewhere, but the majority of the datil peppers grow in the area of St. Augustine, Florida. The datil pepper was brought to St Augustine from Cuba in the 1880s by a jelly maker named S. B. Valls. Datil peppers are used by the Minorcan community in many recipes.
Come learn about the spicy little pepper that is a great part of St. Augustine's epicurean history. Taste local dishes and purchase pepper products along with plants and garden décor. There is a datil pepper cook off on Saturday and an amateur sauce contest on Sunday. You can participate and be the judge, all you have to do is to purchase tasting coupons for $1 each.
Here are some interesting recipes that include the datil pepper.
The festival and show will be held the weekend of at the St. Johns County Agriculture Center, 3125 Agriculture Center Drive from 11 am – 3 pm. Admission is free. Visit the website for more information.