Now you can experience a little bit of Greece in your own backyard when the Greek Festival in St. Augustine returns on October 11 – 13, 2013 at the city's Special Events Field on US 1 and Castillo Drive, right next to the Visitors Center. The event is hosted by the Holy Trinity Greek Orthodox Church in St. Augustine. This year it's  the 14th Annual Greek Festival offers three full days of indulging in the traditional flavors of Greece. How about trying some delicious spanakopita, souvlaki, dolamathes, greek salad or freshly baked baklava? If you haven't tried greek food before, this is something you don't want to miss.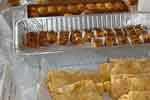 There is also a market with a huge selection of products imported directly from Greece. The Greek festival is not only about food, it's also about music and heritage. This festival is one of the largest and most popular community festivals in Saint Augustine, Florida. The Hellenic Band will be performing  and colorfully-costumed Greek dancers will perform throughout the festival.
Holy Trinity Greek Festival, St. Augustine from Valko Production on Vimeo.
As you might already know, the city of St Augustine played an important part in history for Greek immigrants. Many Greeks arrived in St. Augustine in 1777 after fleeing from the failed British indigo plantation at New Smyrna. They held their first religious service in St. Augustine at the Avero House, more commonly known as the St. Photios Shrine, on St. George Street.
The Annual Greek Festival takes place from 4 p.m. to 9 p.m. on Friday; 11 a.m. to 9 p.m. on Saturday and noon to 5 p.m. on Sunday. Admission is $2 for adults, free for ages 12 and under.  For more information, call 904.829.0504 or visit www.stauggreekfest.com .