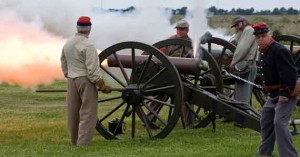 The Georgia History Festival takes place on February 2 – 11, 2012. This event continues Georgia Historic Society's long-standing tradition of commemorating the state's rich history with two weeks of lively educational programming and signature social events, including:
The Georgia Day Parade on February 10, 2012, starring thousands of elementary school students in period costume and led by General Oglethorpe himself.
The two-day Colonial Faire and Muster at Wormsloe State Historic Site featuring cannon firings, period dancing and other demonstrations of early American life
Free admission to dozens of cultural institutions on Super Museum Sunday
In-school programming and hands-on craft workshops
(You'll find the complete schedule further down the page)
The event used to be called Georgia Days, but has no changed name to Georgia History Festival.
The Georgia History Festival will culminate on February 11 with the Trustees Gala, an elegant evening highlighted by the Governor of Georgia's induction of this year's Georgia Trustees, legendary University of Georgia football coach Vince Dooley and former U.S. Senator and global policy maker Sam Nunn.
Georgia History Festival is an annual event held around the anniversary of the founding of the colony of Georgia on February 12, 1733. By engaging students in interactive learning experiences, Georgia History Festival sparks the imagination, develops critical thinking processes, and opens the exciting world of the past to exploration, study, and understanding.
Schedule of Events for 2012
Colonial Faire and Muster
February 4 – 5, 2012 from 10 am – 4 p.m on both days.
Wormsloe State Historic Site, Savannah
Travel back in time to the site of one of the earliest colonial-era plantations on Georgia's coast. This popular annual living-history event features costumed re-enactors and gives you a feel for what life was like for the first settlers of colonial Georgia. Highlights include cannon and musket firing; blacksmithing, craft, and cooking demonstrations; Native American and slave life interpretations; and period music and dance. Free and open to the public.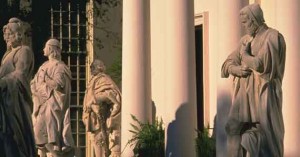 Super Museum Sunday
Sunday, February 5, 2012, 12:00 P.M. – 4:00 P.M.
Multiple Savannah-area sites
Experience the area's rich history and cultural life during Super Museum Sunday when participating historic sites, house museums, art museums, and other venues open their doors. From Statesboro to Darien, over 40 cultural institutions participate in this popular annual GHS family event.
Click here for the Map & List of Museums for 2012
Dignitaries' Coffee
Friday, February 10, 2012, 9:00 A.M.
Savannah
An invitation-only event for dignitaries, sponsors and special guests prior to the Georgia History Festival Parade. Featuring greetings from dignitaries, introductions of costumed characters, and a continental breakfast, this event also includes the unveiling of new plaques honoring the creators of named endowment funds at the Georgia Historical Society.
Shuman Cup Cricket Tournament
Thursday, February 9, 2012
Come and cheer for the teams participating in the 2nd Annual Colonial Cricket match. Cricket used to be the favorite sport of Colonial Georgia. This event is free and open to the public.  
Shuman Elementary School, 912-395-4500.
Georgia History Festival Parade
Friday, February 10, 2012, 10:30 A.M.
Bull Street from Forsyth Park to City Hall, Savannah
Who doesn't love a parade? Thousands of costumed local elementary school children march in this parade (which used to be called the Georgia Days Parade) carrying hand-made banners in commemoration of Georgia's founding in 1733.
Trustees Gala
Saturday, February 11, 2012
The Trustees Gala is the premiere annual fund-raising event for Georgia Historic Society and the finale of the Georgia History Festival. This elegant event draws business and civic leaders to honor and pay tribute to the state of Georgia. This year the event is held at Hyatt Regency hotel.