The 30th annual Sidewalk Arts Festival takes place on April 28, 2012 from 11 a.m to 5 p.m.  This popular festival draws thousands of visitors to Forsyth Park to view  a chalk drawing competition on the sidewalks in the park. The talented students and alumni from SCAD, the college of Art and Design, come out to compete and you can spend a day in the park watching art being created right in front of you.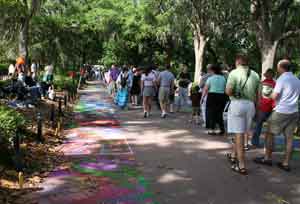 This is definitely a great day to plan for a trip to Savannah.  The festival also includes food, and children's and youth areas for young artists as well as live music throughout the day.
Sidewalks in Cyberspace
The online Cyberwalk Arts Contest for SCAD students and alumni worldwide to compete online with a virtual concrete canvas. Those not able to make it to the festival can experience the digital chalk work of talented SCAD artists competing in the contest. The entries will be available for view at http://www.scad.edu/experience/events/sidewalkarts/. The online winners will be announced at the festival, with SCAD's eLearning department awarding three current students and the alumni department awarding three alumni works.

The Sidewalk Arts Festival has been a cornerstone of SCAD Savannah's spring activities for more than 20 years. Its participants represent SCAD's many areas of study, from animation to architecture. First, second- and third-place monetary prizes are awarded in three categories: students, alumni and prospective students. This year marks the return of a perennial award sponsor, Gray's Reef, whose competition theme for student-specific awards is "Best Underwater Environment." Two new partners are also involved: American Greetings will sponsor a flora and fauna competition theme, and St. Paul's Episcopal Church's award theme is "Where the Spirit Meets the Art." Prospective student award categories range from "Best Copy of a Famous Work" to "Most Whimsical.
Admission is free and open to the public. For more information call 912.525.5865 for more information or visit www.scad.edu