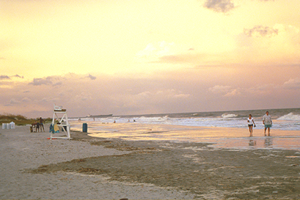 The Tybee Polar Plunge began as an unorganized event spawned from a North Beach New Years eve party challenge.
This year the event also includes a Guinness World Record™ attempt to break the "Largest Gathering of People Wearing Swim Caps", will begin at 11:45 and must last at least 10 minutes.
Outgrowing the North Beach after 3 years the plunge now has its home on the South End of Tybee Island at the Walter Parker Pier and Pavilion.
Each year the event has grown exponentially. Come take the plunge, and for the fun. It's the premiere family fun event. Funny hats and costumes are strongly encouraged. The event is a benefit for the Tybee Post Theatre.
Please plan to arrive early. Like 9-10 am especially if you have not pre-registered. Traffic will be heavy so plan for a stress free entrance to the event
South End of Tybee Island on New Year's Day – January 1, 2012 at noon. For more information visit http://www.tybeepolarplunge.com/