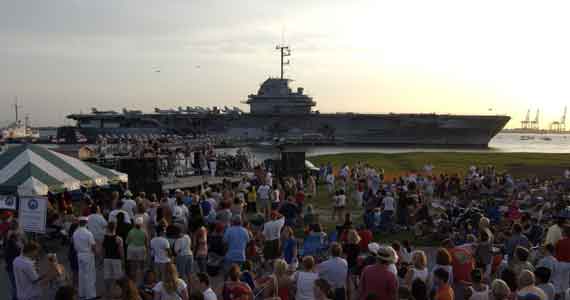 4th of July Blast at Patriots Point in Charleston, South Carolina
Every year the 4th of July Blast draws a huge crowd to Patriots Point on the Mount Pleasant side of Charleston Harbor. The stories of glory and triumph that shaped the U.S come to life at Patriots Point in Charleston and maybe even more so during the 4th of July celebration.
The New York Times calls the 4th of July Blast "…one of the best Fourth of July parties…" and Patriots Point is named alongside the famous events in Washington, Boston and Philadelphia, and rightfully so.
The Annual Fourth of July Blast is hosted by Patriots Point Naval & Maritime Museum and the Town of Mount Pleasant and the event is the ultimate 4th of July celebration and takes place on Wednesday July 4, 2012.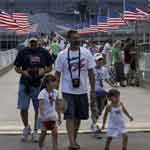 USS YORKTOWN
The festivities include a fireworks display launched from the flight deck of the USS YORKTOWN, a World War II-era aircraft carrier. The USS YORKTOWN saw action in the battles of the Philippine Sea and Iwo Jima, now it is an attraction belonging to the Patriots Point Naval and Maritime Museum. This year, premier seating is offered on USS Yorktown for $10 per person.
For more information, call 843.884.2727 
LANDSIDE
The festival on the landside at Patriots Point takes place from 5 PM to Midnight with lots of activities for the whole family. There will be live music on two stages; a 'Kidz Zone' play area featuring eight attractions, including an 83-foot inflatable replica of an aircraft carrier.
Fireworks & Music.  An Independence Day celebration would not be complete without fireworks, and the 4th of July Blast has an absolutely spectacular firework show.  Fireworks are launched from the deck of the U.S.S. Yorktown with the Charleston Harbor as a backdrop.
Patriots Point — Fourth of July
There is free admission to the festival, parking is $10 at Patriots Point. Festival goers can bring lawn chairs and blankets but personal coolers and pets are not allowed.
For more information, visit www.patriotspoint.org or call 843.884.2727