One of the premier paddlesport festivals on the Atlantic Coast is the East Coast Kayak and Canoe Festival held at James Island County Park on April 20-22, 2012. Here you can find everything you need to know about canoeing and kayaking at the 20th Annual East Coast Canoe and Kayak Festival (ECCKF).
Every year paddlers, instructors and equipment manufacturers are brought together at the action-packed South Carolina festival. The event includes a variety of on-water classes, lectures and demonstrations directed to the novice as well as the experienced paddler. Plus more than forty exhibitors will be on-hand to give you a chance to try the latest equipment before you buy.
Fun and Useful Instruction
The heart of the festival is the simultaneous running of four classrooms throughout the three-day event. Refine your skills in a master class presented by many of the paddling world's leading experts. Learn new strokes, rescues or rolls with expert instruction. Meet other knowledgeable paddle sport enthusiasts. A wide variety of topics include slide shows of exotic paddling locations, how-to sessions on navigation, selecting or repairing equipment, safety and preparing gourmet cuisine fresh from your dry bag.
A family-friendly weekend, children are welcome to the festival and are free with a paying adult.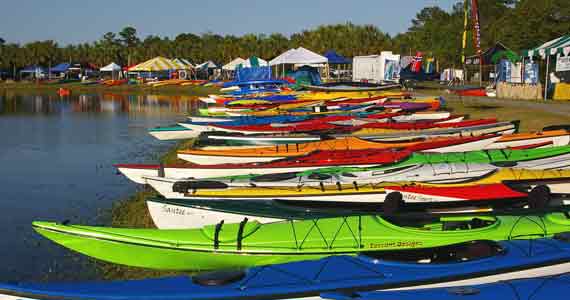 This year's featured speakers will be Nathalie and Alain Antognelli, a Monegasque couple who are both professional photographers and passionate nature enthusiasts. The Antognellis will speak on Greenland, climate change, and their adventures in sea kayaking.
For the complete schedule, click here to visit the website.
For more information, a daily ECCKF schedule and to register call (843) 795-4FUN or visit www.ccprc.com/ecckf