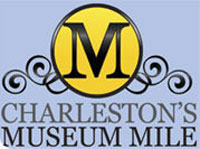 The Museum Mile Weekend in Charleston is one of the best deals in town. The 2nd Annual Museum Mile Weekend is scheduled for September 21 – 23, 2012.  Many of the cultural sites along Charleston's Museum Mile have joined forces and created this event. This year Friday has been added to the weekend, so you have even more time to explore the history of Charleston, SC.
This is how it works – you buy a Museum Mile weekend pass ($25 for adults, $10 for kids 12 and under). Wear your most comfortable walking shoes and hit the streets. Your pass allows you to visit 13 sites in the Meeting Street area in historic downtown Charleston during this special weekend.
When you walk the one-mile section of Meeting Street, you will find six museums, five nationally important historic houses, four scenic parks and a Revolutionary War powder magazine, as well as numerous historic houses of worship and public buildings including the Market and City Hall.
Click here for a Museum Mile Map in pdf format
For the brochure – click here.
For more information call 843-722-2996.
Museum Mile Weekend passes are available now at www.charlestonsmuseummile.org and will be available beginning July 1 at all Charleston Visitor Center locations including the downtown location at 375 Meeting Street and in Mt. Pleasant at 99 Harry Hallman Blvd. Online purchasers will receive their passes in the mail.
Participating Sites
Aiken-Rhett House – 48 Elizabeth Street
The Aiken-Rhett House was built in 1820 and then expanded by Gov. and Mrs. William Aiken, Jr. in the 1830s. The house and its outbuildings have survived virtually unaltered since 1858. Children are invited to enjoy a scavenger hunt throughout the weekend as they explore the house, grounds and outbuildings and learn more about the people who lived and worked on the property.

The Charleston Museum – 360 Meeting Street
The Charleston Museum showcases the cultural and natural history of the Lowcountry. On Friday you can participate in special collection tours led by curators. At 10:00 a.m. Silver, 11:00 a.m. Charleston maps, 2:00 p.m. Natural History hall, and then at 3:00 Threads of War. Children's crafts and scavenger hunt Saturday 10:00 a.m. – noon. 

Children's Museum of the Lowcountry – 25 Ann Street
This fun museum made especially for the younger ones offers eight hands-on interactive learning environments for children 3 months to 10 years. 

Joseph Manigault House – 350 Meeting Street
"Charleston's Huguenot House" was built in 1803 and is a premier example of Adam-style, or Federal, architecture.  Friday, Saturday & Sunday (4:00pm), focus tours at the Joseph Manigault House will give a glimpse of the house's fascinating World War II history, in addition to regular house tours.   

Confederate Museum – 188 Meeting Street
Since 1898, the Daughters of the Confederacy have operated the Confederate Museum, which contains flags, uniforms, swords and other Confederate memorabilia. This museum is closed on Sundays.

Powder Magazine – 79 Cumberland Street
South Carolina's oldest public building, The Powder Magazine (circa 1713) served as an arsenal within the old walled city and was utilized through the American Revolution. Note hours of operation change: visitation each day 10:00 a.m. – 4:00 p.m. Pirate storytelling with period-dressed Eric Lavender and his parrot on Friday at 1:30 p.m. (additional fee may be required for the pirate program; for more information, call 843-722-9350 or visit www.PowderMag.org). Revolutionary drum and fife presentations and musket cartridge rolling for kids Saturday from 10:00 a.m. to 4:00 p.m. Lecture – The Stono Rebellion with historian Michael Coker on Sunday at 12:00 p.m. & 2:00 p.m. (recommended for adults).  

Gibbes Museum of Art – 135 Meeting Street
Experience Charleston's history through art!  Explore stories of the Lowcountry as seen through painting, miniature portraiture, sculpture, photographs and more.  Exhibitions on view include The Charleston Story, The Creative Spirit: Vernacular Art from the Gadsden Arts Center Permanent Collection, and In Search of Julien Hudson: Free Artist of Color in Pre-Civil War New Orleans. Docent-led tours of the museum will be offered at 2:30pm on Friday, Saturday, and Sunday. 

South Carolina Historical Society – 100 Meeting Street
The Historical Society is the state's oldest repository of letters, maps, and images.  The Society's exhibit, "Know Your State's History," will be followed by a fun trivia game to test your knowledge of South Carolina's past. Tours of the exhibit will be given at the top of the hour. Hours are 11:00 a.m. until 3:00 p.m. on Saturday and 1:00 p.m. until 3:00 p.m. on Sunday. SCHS is not open on Friday.

Old Slave Mart Museum – 6 Chalmers Street
The Museum's exhibits focus on the domestic slave trade from the perspectives of historically-documented slaveowners, slave traders and enslaved African Americans, and speak to their stories, contributions and legacies. On Friday and Saturday at 11:00 a.m., 1:00 p.m., and 3:00 p.m., the director will conduct connoisseur tours of the museum and share the stories of several individuals who passed through this auction complex.  Children are invited to enjoy a scavenger hunt throughout the weekend. This museum is closed Sundays.

The Old Exchange and Provost Dungeon – 122 East Bay Street
Completed in 1771 as the New Exchange and Custom House, visitors can explore Charleston's colonial, Revolutionary and Civil War past while retracing the steps of presidents, patriots and pirates! 

Heyward-Washington House – 87 Church Street
Built in 1772, "Charleston's Revolutionary War House" was the townhome of Thomas Heyward, Jr., Revolutionary War patriot and signer of the Declaration of Independence. In addition to regular house tours, special Revolutionary War focus tours are offered Friday, Saturday & Sunday at 4:00 pm at the Heyward-Washington House.  

Nathaniel Russell House – 51 Meeting Street
Visitors are invited to admire the grand Federal style townhouse of Charleston merchant Nathaniel Russell, built in 1808. Children are invited to enjoy a scavenger hunt and family-focused guided tours throughout the weekend to learn more about the house and garden as well as all of the people who lived and worked on the property.

Edmondston-Alston House – 21 East Battery
The Edmondston-Alston House was one of the first dwellings built on Charleston's High Battery in 1825. View a fine collection of family furnishings, books, silver and paintings.  
Guided tours discuss Secessionists, Soldiers, and Slaves: The Alston Family's Civil War. Eye-Spy game available for children.