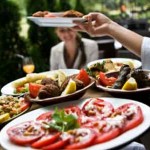 The Palette and Palate Stroll is an exclusive evening devoted to fine art and fine cuisine taking place in Charleston, SC, every year. This annual event has become one of the most anticipated visual art and fine food summer events in the South. This year the Palette and Palate Stroll takes place on Friday July 13, 2012.
Fine art and food connoisseurs will gather in Charleston to stroll through the historic downtown area, tasting food from twelve of the finest local restaurants inside twelve prestigious galleries. The Palette and Palate Stroll starts at 5:30pm and ends at 7:30pm.
This event has been a smashing hit since its start back in 2005, and no wonder. The Palette and Palate Stroll presents the best of Charleston in two disciplines — and all this in one remarkable evening.
Everyone will get an opportunity to mingle with local and visiting artists at the galleries and at the same time, enjoy fine art paired with fine cuisine.
"Since 2005, the event has attracted more than 3,000 people from across the nation. CFADA created this event to introduce our diverse art market to a new generation of local art collectors as well as art collectors from all over the United States," says Helena Fox, co-president of CFADA. "We also wanted to reach out to our community and give local restaurants unique art venues to present their works of culinary art."
"Our local chefs pride themselves on using local products and bringing farm to table. Our goal was to offer a special opportunity to present the bounty of local summer produce and products in the peak of the growing season and pair it with new works of art," says Johnson Hagood, co-president of CFADA.
The 2012 pairings are:
Corrigan Gallery – Barsa Tapas
Dog and Horse Gallery – Circa 1886
Ella W. Richardson Fine Art – BLU
Helena Fox Fine Art – Anson
Horton Hayes Fine Art – Oak
Smith Killian Fine Art – McCrady's
The Sylvan Gallery – Eli's Table
Wells Gallery – Social
The event is presented as part of the Charleston Fine Art Dealers' Association's Studio Series, benefiting its visual arts scholarship fund. Money from the scholarship fund has been awarded to organizations such as Redux, the Gibbes Museum of Art and the College of Charleston School of the Arts. Cost is $45 per person and tickets are limited. Reservations are required.
Tickets can be purchased by calling 843-819-8006 or on-line at www.cfada.com.