Edisto Park is located in one of the most beautiful areas on the South Carolina coast. If you're in the Charleston area – you should try to drive out for a visit.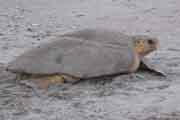 You probably already know that the loggerhead turtle is an endangered sea turtle that comes to our beaches in South Carolina, Georgia and Florida to lay eggs. Many parks on the coast have special educational programs about the fascinating sea turtle. At Edisto Park you can learn all about these fascinating animals.
After a short program, the group will go down the beach in search of a nesting loggerhead sea turtle. Kids need to be 10 or older to participate, and you will of course have to be prepared to walk, so wear you're best walking shoes.
There's no guarantee that you will actually see sea turtles – or hatchlings, you might see tracks, and who knows? You might be one of the lucky ones who get to see a loggerhead sea turtle returning to the ocean after laying her eggs.
The loggerhead sea turtle is the South Carolina state reptile and is the most commonly observed sea turtle off the South Carolina coast.
In any case, nesting season lasts from May – August. Usually hatchlings emerge at night and head for the ocean.
Edisto park also has a campground, hiking trails, picnic areas and a playground. So why not bring the whole gang, a picnic basket, blankets and make a day of it. There is a lot to discover in this area.
The Edisto Interpretive Center helps promote the wise use of coastal resources. An exhibit features interactive displays, including a touch tank, and explains the fragile resources of the ACE Basin reserve, the largest such natural reserve on the East Coast.
The Sea Turtle Walks take place every week in July on Tuesday and Thursday at 9:00 PM – till whenever. Tickets are $10. Please call (843) 869-4430 to make reservations for the Sea Turtle Walk. Spots go fast, so call now.
Click here to watch our weekly show with  The Sea Turtle Walk at Edisto Beach State Park, South Carolina. as the pick of the week.
Year Round Sea Turtles Program
Interested in learning more about the sea turtles? Sea turtles have lived on the earth for about 150 million years, before the time of the dinosaurs.
Don't despair, beside the seasonal sea turtle walks, here are a few ideas for other interesting programs lasting year round.
South Carolina Aquarium
Find it more about sea turtles at the aquarium. Here you will meet current patients, learn from sea turtle experts speak, and you'll find out what goes on behind-the-scenes at the sea turtle hospital.
Tours are offered Wednesday, Friday and Saturday
from 1:00-1:30
$10/adult, $5/child for the behind-the-scene tour + cost of admission to the aqurium. Adult admission is $17.00 and kids under 11 years of age $10.00.
Reservations are recommended, please call (843)577-FISH.
If live in the area, take a look at the yearly aquarium membership. It comes with a lot of extras, and if you're planning to do any of the special programs it is definitely the best way to go.
For a family of four it's $135/year – and you can bring 2 guests. Check the website for details.  www.scaquarium.org
Georgia Sea Turtle Center
In Georgia you can visit the Georgia Sea Turtle Center on Jekyll Island, a marine turtle rehabilitation, research, and education facility. The center opened in June 2007 and provided state-of-the-art emergency care to sick and injured sea turtles. Jekyll Island is unique among Georgia's developed islands for its significant annual turtle nesting.
Visitors to the Georgia Sea Turtle Center will learn about sea turtle conservation, rehabilitation, and the sea turtles fascinating journey from egg to adulthood.
There are different programs offered during the year; behind-the-scenes, sea turtle walk and more.
Check out the website   Georgia Sea Turtle Center or call 912-635-4444 for more details.