At the Butterfly Festival you will experience a close encounter with 1000 of the gossamer-winged creatures. The festival takes place at Treehill Nature Center on April 24, 2010, from noon to 5:00 p.m. and culminates with nature's fireworks – a live native butterfly release. This is something you don't want to miss.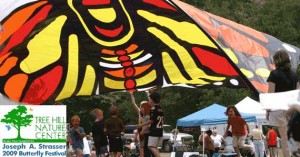 If you ever thought about starting your own Butterfly garden, come to the festival to find out more. You can visit the butterfly exhibit and there's lots of activities for children, live music, vendors, and much more.
There's also Art in the Park where local artists showcase their art. In the Get Back to Nature area you can meet experts from local nurseries who can tell you all you need to know about native plants and herbs. You can also shop at the Monarch Mall for everything from plants to jewelry and much, much more.
Thousands of visitors come to the popular butterfly festival. So plan on getting here early, and staying all day. Tickets are $4 for adults, $3 for seniors/military and $2 for children. Click here for a $1.00 off coupon
The proceeds goes to support Treehill Nature Center.
Watch our video from last year's event – and below it the Tour of Treehill Nature Center!
Watch the Tour of Treehill Nature Center!