Every spring  Charleston puts on a wine and food event like no other. The BBT Charleston Food + Wine Festival gives you the opportunity to taste food cooked by some of the country's best chefs, and meet chefs, authors and wine professionals.
Charleston Food and Wine Festival takes place March 3, 2011 – March 6, 2011. This popular food festival has been named one of the best U.S. Food and Wine Festival's by Forbes Traveler.
Guests can learn more about Southern cuisine and the Lowcountry's unique food styles, heritage and recipes. Thera are over 50 different events taking place throughout the festival weekend.
The heart of the matter for the festival is the Culinary Village + AAA Carolinas Grand Tasting Tents located at Marion Square in downtown Charleston. Each year the Culinary Village and Grand Tasting Tents get better and this year is no different. Guests can expect to find a new layout with over 90 food, wine and spirit stations, an open-air courtyard and an official Festival merchandise boutique. Wine and food vendors will be serving samples during the Grand Tasting Tent hours, but the fun includes more activities at the SCE&G Celebrity Kitchen Tent, Charleston Cooks! Book Signing Tent, Outdoor Living + Grilling Area, Whole Foods Wine Shop and the BB&T Hospitality Tent.
New to the 2011 schedule, Cooking Competitions will take place Friday, Saturday and Sunday in the SCE&G Celebrity Kitchen.
The heat is on as local chefs face off against national chefs in a iron chef style cook-off where audience members decide the winner as the mystery ingredient is unveiled!
Click here to download the complete program for the Charleston Food and Wine Festival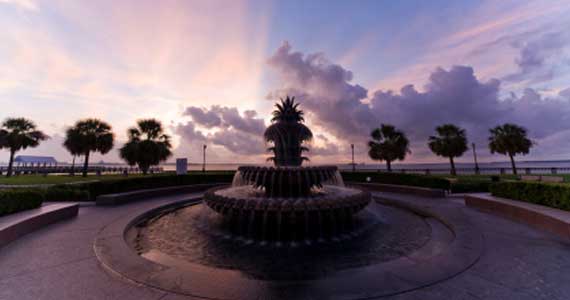 Other food related events in Charleston:
Taste of Charleston
Charleston Farmer's Market
Charleston Restaurant Week